Anedotas 1.8.0.2 APK
Download Anedotas 1.8.0.2.apk APK BLACK files version 1.8.0.2 pt.danielindustries.anedotas Size is 2217407 md5 is 60168d9ccb926ee0094d788c8c5509ca Updated In 2021-09-15 By Daniel Industries This Version Need Ice Cream Sandwich 4.0.1 - 4.0.2 API level 14, NDK 7 or higher, We Index 4 Version From this file.Version code 1802 equal Version 1.8.0.2 .You can Find More info by Search pt.danielindustries.anedotas On Google.If Your Search danielindustries,anedotas,entertainment Will Find More like pt.danielindustries.anedotas,Anedotas 1.8.0.2 Downloaded 4 Time And All Anedotas App Downloaded 41 Time.
Comid:pt.danielindustries.anedotas
Keywords:danielindustries,anedotas,entertainment
Version: 1.8.0.2 (1802 code)
Dev: Daniel Industries
Requirement: Ice Cream Sandwich 4.0.1 - 4.0.2 API level 14, NDK 7 or higher
Updated: 2021-09-15
size: 2.11 MB (2217407 Byte)
MD5: 60168d9ccb926ee0094d788c8c5509ca
Cpu:
Screen: SMALL
Description of Anedotas pt.danielindustries.anedotas
Na aplicação Anedotas encontras sempre as melhores anedotas! E que anedotas! Das mais curtas até às mais longas, mas sempre, sempre, as melhores anedotas! Das anedotas das nossas queridas loiras até às dos alentejanos sempre sem pachorra, das anedotas dos ignorantes até às do Joãozinho, e c
Anedotas 1.8.0.2 News
Novidades na versão 1.8: ✓ Tema escuro; ✓ Sem anúncios; ✓ Mais anedotas; ✓ Melhoria do visual; ✓ Correção de erros.
Download
1C:6D:D3:A9:8A:02:89:A3:6F:06:23:F1:80:5B:48:E1:14:83:78:C0
CN=Daniel Freitas, OU=Danny Industries, O=Danny Industries, L=Funchal, ST=Portugal, C=9050-331
Screenshot Anedotas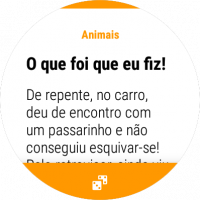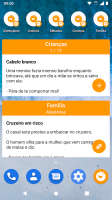 Other Anedotas APK Versions For Android